Thank you for considering a donation to the Glen Lake Community Library. The library is a cornerstone of lifelong learning in Empire, Glen Arbor and Kasson Townships.  Your support will help the library complete the new library landscaping and/or enhance collections, programming and special events.
Landscape Fundraising Meets the Mark!

Thanks to the many donors who have helped us reach our goal of $104,000. With this funding secured, work on landscaping improvements can now proceed as scheduled this spring. Additional plantings and built-in furniture will help make the library an even more inviting, accessible and attractive community destination.
Pave the Way!
You can still support the landscape project with the purchase of a custom-engraved paver.  54 pavers have already been installed in the front plaza of the new library.  Additional pavers will be installed annually as long as space remains, first in the front plaza and then in the south entry sidewalk.  Profits will support the remaining landscaping work.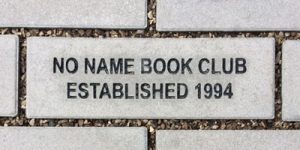 To order your paver, first download the paver order form  or pick up a copy at the library. Your completed order and payment should then be returned to the library. You can also make your payment by credit card online – but be sure to complete and submit you paver inscription order as well! For more information on this project, contact the library or call Chris Nelson at 616.826.2251.