Make a Donation
Thank you for considering a donation to the Glen Lake Community Library. The library is a cornerstone of lifelong learning in Empire, Glen Arbor and Kasson Townships.  Your support will help the library continue to enhance our facility, collections, services and programs. Gifts may be made in person at the library; via mail to Glen Lake Community Library, PO Box 325, Empire, MI 49630, or online with a credit card.
Donations may also be made in honor or memory of a friend, associate or family member. Please include this information with your donation.
Please note that financial donations to the library are tax deductible to the extent allowed by I.R.S. rules. The library will provide a written acknowledgement of your gift.
Donations of material objects will also be considered, as deemed appropriate by the library. See our Gift Policy for more information.
Pave the Way!
Thanks to the support of many generous donors, we've completed our Phase 2 landscape development plan. Additional improvements have also been approved by the Board of Trustees, and will help make the library an even more accessible and inviting community destination.
You can support this ongoing project with the purchase of a custom-engraved paver. Hundreds of pavers have already been installed in the front plaza of the new library.  Additional pavers will be installed annually as long as space remains, first in the front plaza and then in the south entry sidewalk if needed.  Pavers are $200 each. Profits will support the ongoing development of the library.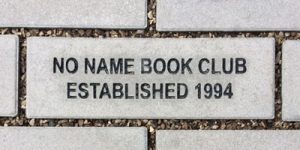 To order your paver, first download the paver order form  or pick up a copy at the library. Your completed order and payment should then be returned to the library. You can also make your payment online – but be sure to complete and submit your paver inscription order as well! For more information, contact the library.