Thank you for considering a donation to the Glen Lake Community Library.
The library is a cornerstone of lifelong learning in Empire, Glen Arbor and Kasson Townships.  Your support will help the library complete the new library landscaping and/or enhance collections, programming and special events.
Support the Completion of the Library Landscaping!
The library renovation and construction is now complete, along with the front plaza. All that remains to be done is the south entry landscaping, which is scheduled to be completed in Spring 2021.  First, $104,000 needs to be raised.
There are two ways to support the completion of the library landscaping:
Pave the Way!
Purchase a paver to be engraved with your name, names of loved ones, or a library-like quote.  In May, 54 pavers were installed in the front plaza of the new library.  Pavers purchased now through next spring will be installed in early summer of 2021 on the front plaza and south entry.  There are 390 pavers still to be purchased.  Profits go to support the south entry landscaping.  Download the paver order form below, or pick up an order form at the library.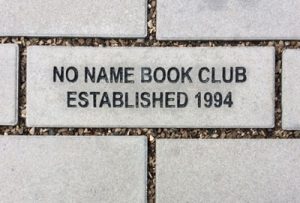 Books, Benches and Blooms
You can also support the completion of the south entry landscaping plan with a general donation of your choice, which will be acknowledged on the outside donor wall. NOTE: Naming opportunities for the serviceberry trees and benches along the back sidewalk have all been filled.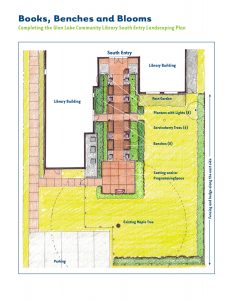 For more information on either of these options, contact the library or call Chris Nelson at 616.826.2251.